The eyebrows are one of the most important things that complete any makeup look. Hence the constant need to get a perfect or near-perfect eyebrow look.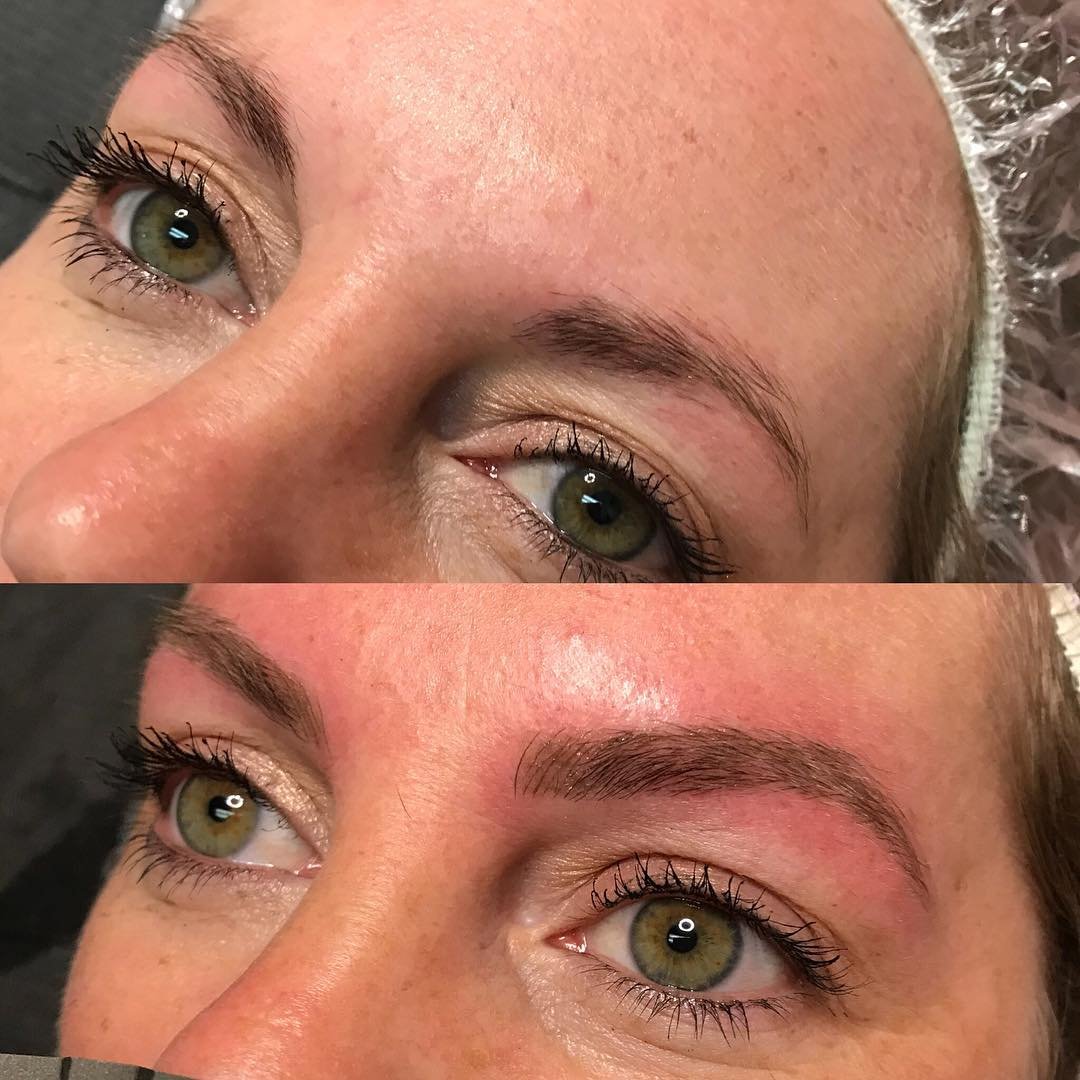 However, the unwritten rule for eyebrow makeup is that eyebrows are always sisters and never twins, This means you can never get your eyebrows to look the same, but you can achieve a little close to this. 
Still, eyebrow makeup can be a real struggle for many, and in recent times, a new trend called Microblading has been introduced into the beauty industry to curb this struggle. In this article, microblading will be thoroughly explained.
What Is Microblading?
Microblading is a two-session cosmetic procedure done using a handheld tool with several tiny needles to create hair-like strokes with pigment deposited into the epidermal layer of the skin.
The client's skin tone or preferred brow color is first considered before the pigments used are chosen and blended. An esthetician or a brow artist performs Microblading, which can take about 2 to 3 hours to get done.
Apart from cosmetic reasons, Microblading can be done to reconstruct lost eyebrows and is great for people who have very little or no eyebrows due to age or any other condition.
What Are The Things To Note Before Microblading?
Your Skin Tone
If you have a sensitive skin type, you don't want to go near Microblading. The Microblading procedure requires healing to get back to normal facial activity, and sensitive skin will take longer to heal because of inflammation and, sometimes, even infections.
Your Choice Of Technician
The last thing you want is to come out of a Microblading session with horrible-looking eyebrows. Therefore, this is a strong reason you want to check out your technician's work before proceeding with the procedure.
Make sure they have before and after pictures on their website or their social media pages.
Make sure the technician can deliver the kind of brow result you're looking for
Finally, make sure to read the reviews written by their past clients.
Skin Sensitivity
Your skin might be extra sensitive if you do the procedure during your menstrual period.
Brow Appearance During Healing
Because of the natural healing process, your eyebrows will appear bolder and darker for about two weeks.
What Is Expected Of You Before and After A Microblading Procedure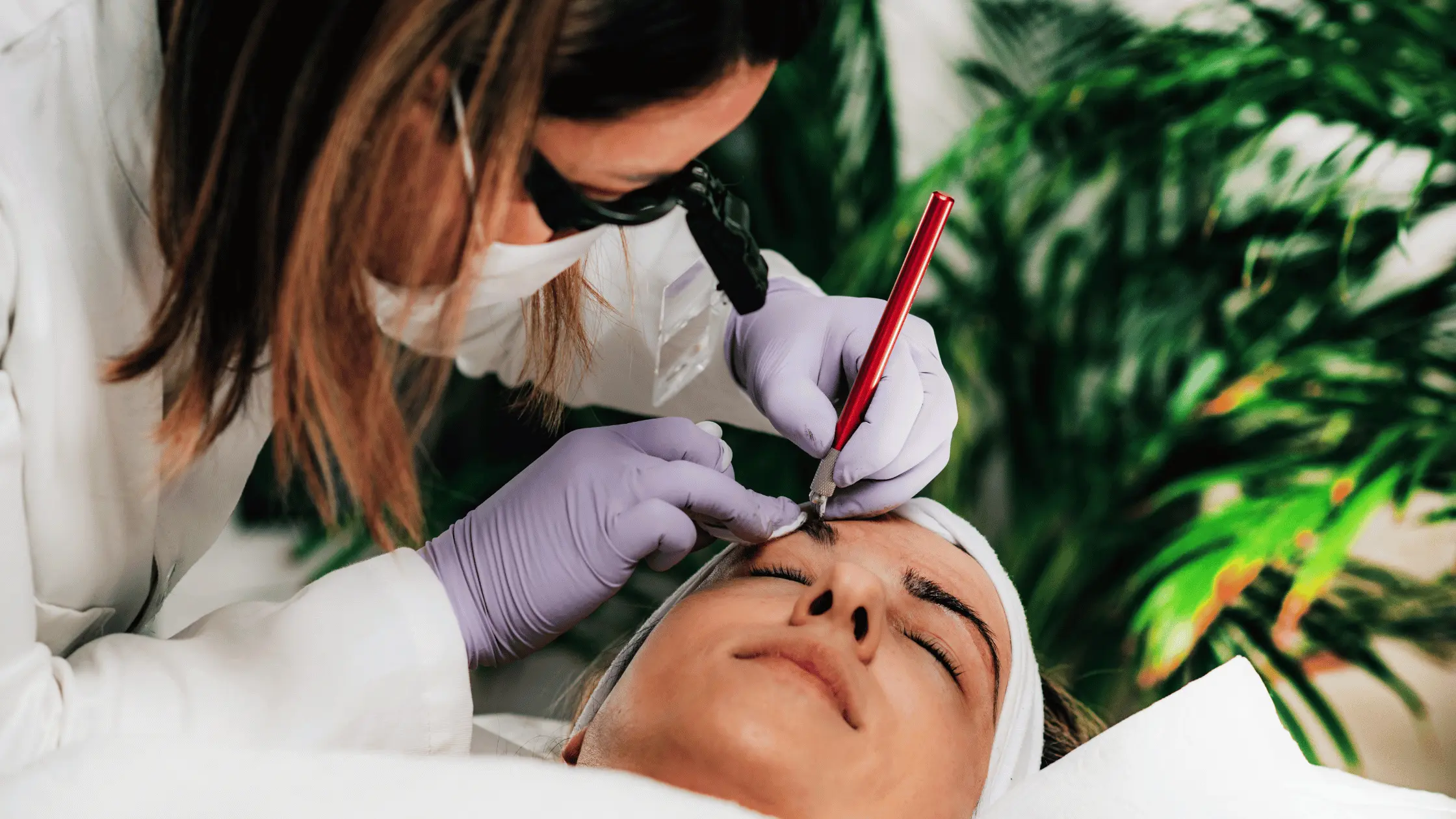 Like in any procedure, where you need to do certain things pre and post-procedure, the Microblading procedure has several essentials to be adhered to before and after it is carried. The necessary things to be carried out to ensure a smooth ride and overall success in your Microblading are listed below:
Pre-Care Responsibilities
Do not take caffeine, caffeinated drinks, or alcohol 48 hours before the procedure.
About a week before the procedure, stay put in the sun.
Wait to work out about 24 hours before the procedure.
Don't take aspirin, Vitamin E, or ibuprofen 48 hours before the procedure.
Only use chemical peels about four weeks before the procedure.
Post-Care Responsibilities
Ensure not to sleep on your face or brows for the first ten days after the procedure.
Ensure to allow your eyebrows completely air dry before you apply any ointment. The only ointment you can apply is the aftercare given to you by your technician.
Ensure not to rub, pick or scratch the area that has been treated, as this can cause loss of pigment or even scarring
Ensure not to expose yourself to direct sunlight, which can cause hyperpigmentation and scarring. Use sunblock to avoid fading when you go out into the sin after the area is healed.
No makeup or skin care products, facials, or chemical treatment should be used on the treated area for two weeks.
Keep your hair away from the treated area for about ten days after treatment.
Avoid any activity that will cause sweat on your brows for the first ten days.
Microblading FAQs
Does Microblading Hurt
Yes, microblading hurts; however, the hurt level is determined by the client's pain threshold. A numbing cream is usually applied before the procedure, which helps reduce pain, and different persons feel the procedure's pain differently after the numbing cream wears off.
How Long Does It Take For Microblading To Heal?
A microblading procedure takes anywhere from 4-8 weeks to heal completely, depending on the client's age, skin type, and general health. The healing process entails tenderness, swelling, itching, and scabbing and requires extreme discipline and patience.
Is Microblading Permanent?
Microblading is a semi-permanent procedure and can last anywhere between 1 to 3 years before wearing off.
How Long Does Microblading Last?
Again, while microblading can last between 1 to 3 years, its lasting duration largely depends on the client's skin type because color retention varies from individual to individual. Clients who use products with glycolic acid or AHA and tan products will also have their microblading procedure fade faster.
Is A Second Microblading Session Necessary?
Yes. A second Microblading after 4-6weeks of the first session is necessary as the technician will be able to touch-up missed areas due to swelling or that didn't set in during the first procedure.
Can You Microblade Over A Tattoo?
Microblading can be done over tattooed eyebrows only if the tattoo is lighter and the tattoo ink wasn't implanted too deep into the skin.
Does Microblading Stop Your Hair Growth?
Microblading does not promote or hinder hair growth. If well done by a professional, the procedure shouldn't go into the dermis area of your skin where your hair follicles are.
How Will My Eyebrows Look After Microblading?
Microbladed eyebrows will, first of all, look bold, full, and too dark on the first day, and they will gradually fade off and look quite okay by day 14. However, note that the healing process takes about 25-30 days.
Are There Side-effects To Microblading?
The major side effects of microblading are redness and swelling, which will subside days following the procedure. The technician's unhealthy practices or the client's unsuitability can cause other side effects.
Who is Microblading Not Suitable For?
Microblading is not suitable for:
Anyone who has skin that is prone to bleeding.
Anyone pregnant or nursing mothers
Anyone who is Diabetic
Anyone who is Epileptic
Anyone who has a major heart problem
Anyone who has had an organ transplant
Anyone who has skin irritations
Anyone who has keloids or a tendency to have them.
Anyone who has had Botox in the last two weeks
Anyone who is allergic to anesthetic
What Is The Average Cost Of Microblading
Microblading costs range anywhere between $250 – $2000. These costs differ from one place to the other. Where it might be less expensive in smaller cities, microblading costs will usually be on the pricey side in larger cities. Another big factor that affects microblading cost is competition in an environment.
Prices are similar in a place where there are just a few artists. However, these prices differ a little bit if there are many salons, and some are more standard in value and delivery than others.
All in all, microblading costs, though it differs from one place to the other, are still pretty expensive and are something you want to prepare a budget for instead of dipping into your purse without a concrete budget.
Conclusion
Microblading is one great way to get amazing eyebrows without much effort. However, it is important to research and follow EVERY guideline regarding the procedure to achieve maximum results or to prevent any medical conditions brought on by any carelessness.