Microblading is a cosmetic procedure requiring making small hair-like strokes into the skin with handheld equipment with several tiny needles.
Microblading has become a hot trend in recent years and has a large percentage of makeup lovers swearing it is the new way to go regarding eyebrow makeup.
However, many people opt for microblading only after paying attention to certain necessary details that will ensure a successful outcome from their microblading session.
Some of these details include dos and don'ts of microblading and aftercare care tips to be religiously followed for maximum results.
How To Care For Microbladed Brows
Microbladed eyebrows require quite a lot of patience, following through with all the necessary aftercare guidelines. First, there is a list of guidelines to be followed. Then, there is the daily application of these guidelines and their duration. Follow these guidelines to the letter to avoid affecting the results that a client ends up with. Below are 10 important aftercare tips to be followed when going through a healing process for micro-bladed eyebrows.
10 Aftercare Tips To Follow After Microblading Procedure
Do not let water, soap, lotion, or makeup get on your brows for about a week.
Apply the ointment given or prescribed by your artist every morning and night. Ensure to clean your hands before using them on your brows to avoid germs being deposited on the skin. Note that your skin is still really sensitive and prone to infections. Apply continually with a swab of cotton until the scab has peeled off.
When the micro-bladed area starts to scab, do not itch, pick, or peel until the healing process is over. And this is because you can mistakenly peel off the pigment alongside the scab.
Stay away from cleaning that produces a lot of airborne dirt. For example, dust.
Do not consume a lot of alcohol for about two weeks.
Stay away from vehicles that are open for two weeks. Examples of open vehicles are bicycles, motorcycles, boats, etc.
Stay away from the jacuzzi, swimming pools, sauna, and anything that will cause 'unhealthy' moisture on your skin until your eyebrows are completely healed.
Avoid being exposed to UV or UV-A rays for about two weeks.
Do not do anything that requires laser and chemical treatments for about two weeks, especially if they have glycolic acid or Retin-A in them.
Discipline the urge to constantly touch your brows except at times when you want to apply your aftercare ointment or rinse
Tips To Aid Daily Microblading Healing Process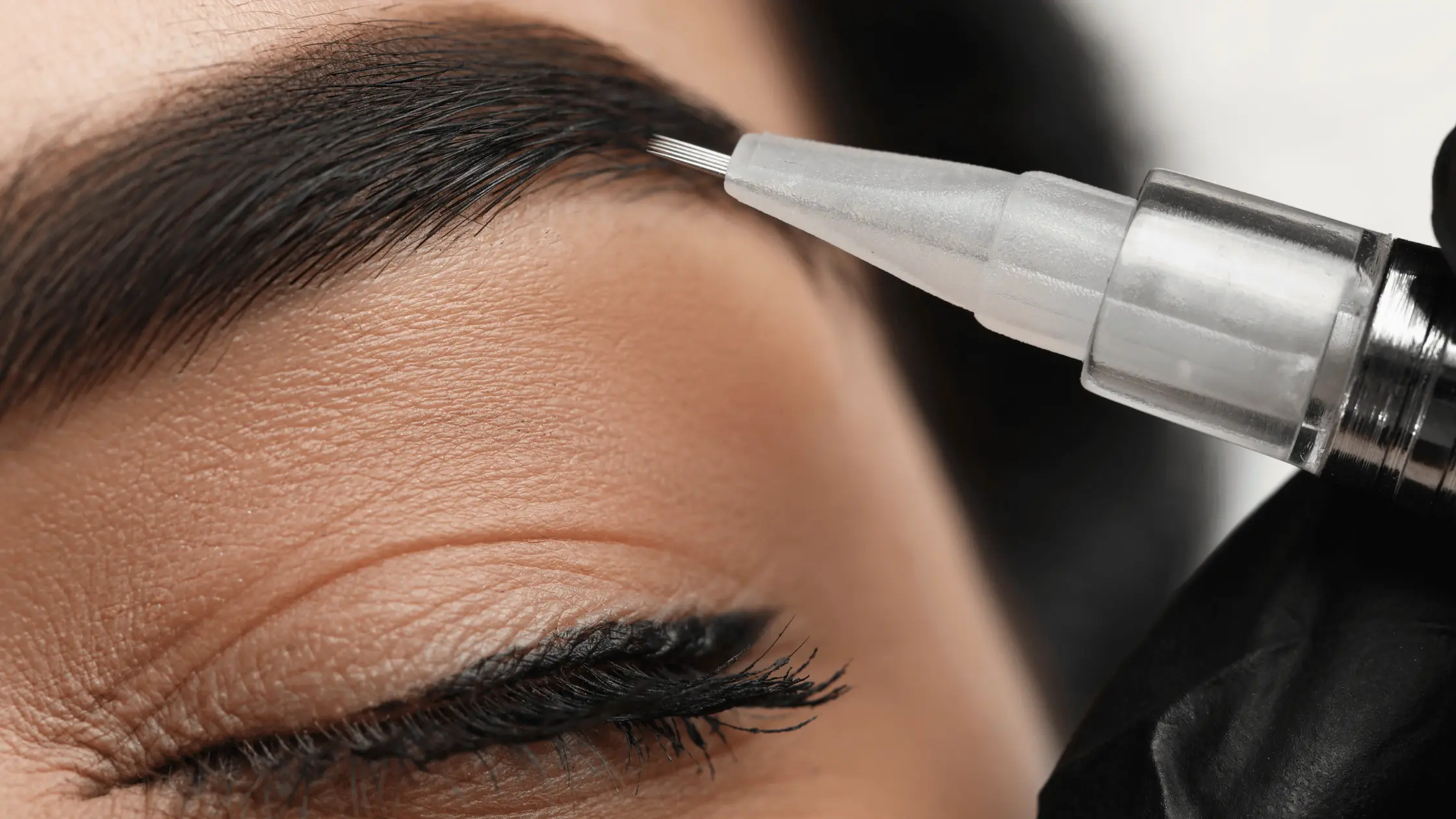 Day 1
Immediately after your microblading session, you might be worried about how dark and thick your eyebrows look. You'll also feel a little pain, swelling, and tenderness, with slight bleeding and redness around the micro-bladed area. These are all normal, and it's best not to panic and rest from the procedure.
Days 2-5
Some days down the line, you'll also experience serious itchiness on your brows and some scabbing. You must avoid picking, scratching, or peeling the scabs as this can tamper with what has been done.
Also, it might be hard to see the hair strokes that have been made, so it's important to keep the brows clean and dry. By now, you can start applying the ointment your artist prescribed with a swab of cotton to aid the healing process. However, a small amount of ointment should be added each time.
Days 7-10
By a week after your microblading procedure, the scabs on your eyebrows will start to peel off on their own accord. It is important to note that you shouldn't peel off these scabs and let them fall off. You'll have patchy eyebrows as the top layer of pigment starts to clear off. Then, you'll notice your eyebrows are beginning to look lighter than you imagine. However, as your skin heals up, it will be corrected.
Days 14-21
A few weeks after your microblading session, your brows can now start to accommodate water touching them. You can continue doing your skincare routines. Although your eyebrows will still look a little too light than expected, rest assured, they'll darken up and look more natural as the healing process nears an end.
Days 30-40
Finally, your healing process has come to an end or is very near. Your brows will now feel natural, and the color won't be too dark or too light; it will just be okay, though not perfect, as there will still be a few patches here and there. This is one of the reasons a second session is compulsory for touch up.
Conclusion
Following the aftercare tips for microblading are equally as important as going through the procedure itself. Also important to note is that a few slight differences come from one client to the other, which generally depend on the health and skin type. So, it's important to ask your artist for an aftercare guide and follow it religiously.